Espresso Brownies with Praline Frosting Recipe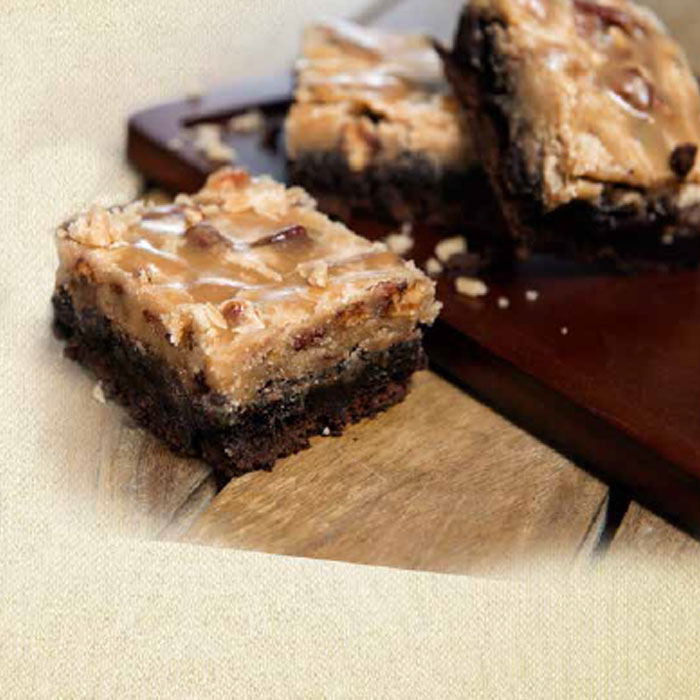 Ingredients
For Brownies:
• 1/3 c. PJ's Iced Coffee Concentrate
• 1/3 c. vegetable oil
• 2 ea. eggs, large
• 1 box brownie mix (19.8 oz.)
• Nonstick vegetable
• oil cooking spray
For Praline Frosting:
• ¾ c. pecans, chopped
• 4 tbsp. butter
• 1 c. light brown sugar, firmly packed
• 6 tbsp. whipping cream
• 1 c. powdered sugar, sifted
• ½ tsp. vanilla extract
Yield: 1 Dozen 2 ½ inch Brownies
Preperation
Preheat oven to 350°F. Spray a 9 x 9-inch baking pan with nonstick spray. Whisk 1/3 cup of PJ's Iced Coffee Concentrate, oil, and eggs in a large bowl to blend. Add the brownie mix. Stir until well blended. Transfer the batter to the prepared baking pan. Bake until a toothpick inserted into the center of the brownies comes out with a few moist crumbs attached, about 35 minutes. Cool completely.
Directions
Meanwhile, toast pecans on a baking sheet at 350°F for 15 minutes or until golden brown, stirring once. Bring butter, brown sugar, and cream to a boil in a 2-qt. saucepan over medium heat, stirring often for 2 minutes. Remove from heat, and whisk in powdered sugar and vanilla until smooth. Add toasted pecans; stir until frosting begins to cool and thicken slightly. Spread on cooled brownies and allow to set. Cut into 2 ½ inch pieces and serve.
Back to Recipes