Iced Coffee Cookies Recipe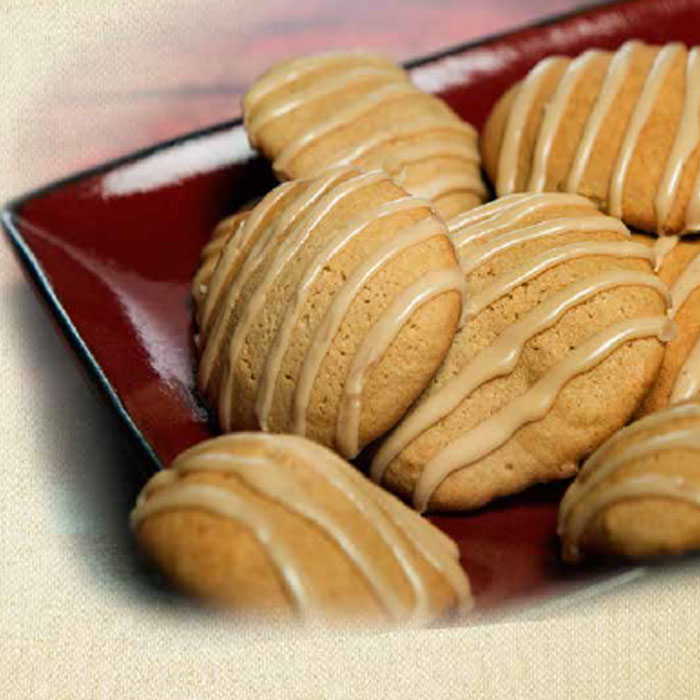 Ingredients
For Cookies:
• 2 sticks butter, softened
• 1 c. brown sugar, firmly packed
• 1 ea. egg
• 2 ¼ c. flour
• ½ tsp. salt
• 2 tsp. baking powder
• ½ tsp. vanilla
• ½ c. PJ's Iced Coffee Concentrate
For Coffee Icing:
• 1 c. powdered sugar, sifted
• 2 tbsp. PJ's Iced Coffee Concentrate
Yield: 2 Dozen Cookies
Preperation
Preheat oven to 375°F. Cream butter, brown sugar, and 2 eggs thoroughly. Add flour, salt, baking powder, and vanilla; mix. Add PJ's Iced Coffee Concentrate and baking soda; mix again. Drop by tablespoons onto a parchment lined cookie sheet. Bake cookies at 375°F for 12 - 15 minutes until golden brown.
Directions
Place cookies on rack to cool completely. Cookies will seem cake-like at first, but will crisp up as they cool. Meanwhile, pour 2 tablespoons of PJ's Iced Coffee Concentrate into a small bowl. Whisk in sifted powdered sugar until smooth and thin enough to drizzle. Place icing into a small applicator bottle and drizzle coffee icing back and forth over cooled cookies. Allow coffee icing drizzle to set before serving.
Back to Recipes